Samantha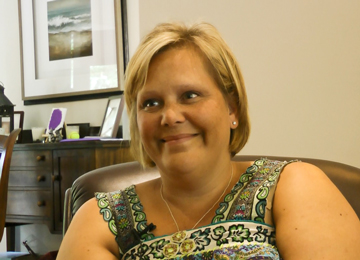 3 years since diagnosis
Age at interview: 38
Samantha is married and has one young child. She works in sales and marketing for a bank.
Samantha received her diagnosis in 2012. She first felt a lump in her breast while turning off a light when she was on holiday. She saw her doctor as soon as possible after she came back. Her doctor referred her for a mammogram and an ultrasound and then she underwent two biopsies. Within 8 weeks after first finding the lump, Samantha was told that it was breast cancer. In hindsight, this process went really quickly for her, but at the time it felt like an eternity. Following confirmation of her diagnosis, she opted for a lumpectomy and thought she might need just a bit of radiation afterwards. Samantha recovered so well from the surgery that she decided to go on vacation before she went to see the oncologist. During her appointment with the oncologist, she was told that she needed chemotherapy followed by radiation. In addition, further testing showed a spot on Samantha's sternum which needed to be followed as well as a local spread across lymph nodes of her mammary glands. This type of spread is more unusual and Samantha decided to request a double mastectomy with immediate reconstruction. The surgery, which lasted 11½ hours, was tough for Samantha but she doesn't regret her decision. Overall, Samantha has felt that she received great support from her work; she stopped work during treatment and returned after 15 months. Samantha and her family were able to continue a relatively normal life while she was home. Her parents played an important role in providing stability for Samantha's daughter.
Throughout her illness experience, Samantha learned a lot about others around her and she received support from unexpected people. She also sought support by attending local support groups. The first group she visited had members who were mostly older than her. Samantha later found a support group with younger women where she was better able to share her concerns about her illness. For Samantha, it was important to feel that she was contributing to improvements in care offered to patients like her rather than to just complain. This is why she later decided to become a member of a patient and family advisory committee for Cancer Care Ontario – a role she is very much enjoying.
More content