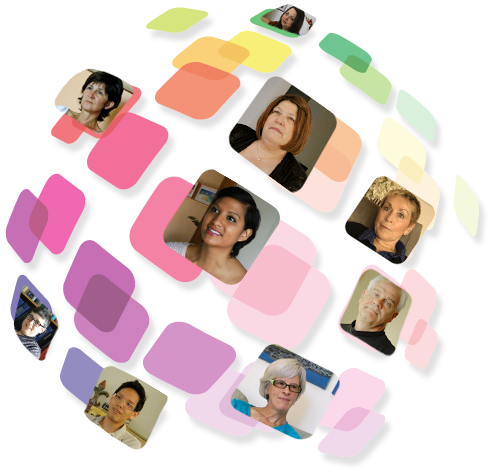 When people are faced with health and illness issues as either a patient or family member, other people's experiences are always a valued source of information. The Internet has revolutionized people's ability to access other people's stories, learn about their own condition, and share their experiences; no matter how rare the medical condition, there is a website somewhere brimming with facts and figures and, increasingly, first-hand accounts from people who are living with that condition.
We have created healthexperiences.ca as a place for you to see, listen, and read about Canadians' first-hand accounts with illness. On this website, you will find videos and transcripts of in-depth interviews with Canadians, all based on rigorous qualitative research led by experts at St. Mary's and McGill University. Our approach ensures that we include a full range of patients' perspectives to share a realistic collection of the experiences that come with a particular diagnosis or illness. On this website, you will also learn about other Canadian resources and services that might be helpful to you.
The Healthexperiences research team, based at St. Mary's in Montreal, benefits from close collaboration with the Health Experiences Research Group at the University of Oxford in the United Kingdom, and other international partners. In the UK, Healthtalkonline presents a unique collection of personal experiences of over 100 different illnesses and health conditions. It provides highly reliable data of more than 2500 people's personal experiences of health and illnesses in the UK, all made available on the website www.healthtalk.org. The website receives about 50 million hits annually and have won several awards.
Until now, there has been no source of information akin to Healthtalkonline in Canada. In 2011, we started our very first collection, which explores the experience of family caregiving for adults with chronic physical illness. The module is funded by St. Mary's Hospital Foundation. This module was followed by a collection on the experiences of women with breast cancer and collection on immigrant mental health, perinatal mental health and end of life experiences are under development.
With these and future modules we aim to:
Create an opportunity for people to share their stories;
Provide a source for reliable information and support for patients, families, friends, caregivers, nurses, doctors, and other healthcare professionals;
Educate doctors, nurses, and other health professionals about patients' and caregivers' experiences of illness;
Provide a patient-centered perspective to researchers, clinicians and those who manage healthcare services.
Healthexperiences.ca is made possible through support from various organizations including: St. Mary's Hospital Foundation, McGill Rossy Cancer Network, the Royal Bank of Canada, and the Gustav Levinchi Foundation.
All content on Healthexperiences.ca is not influenced by outside sources. Advertising is not permitted on the website and Healthexperiences.ca does not obtain its revenue through advertisements.