Nadia B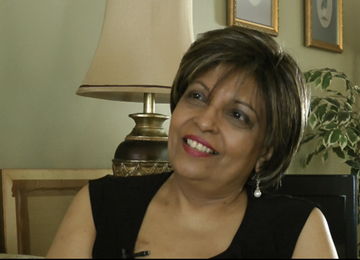 Recently diagnosed
Age at interview: 56
Nadia (B) works as real estate client manager. She is married and has two grown children.
Nadia (B) received her diagnosis in 2014. Nadia (B) first felt the lump when she checked her breasts while watching TV. The lump didn't hurt, but it did feel hard. She called her doctor the next day and when he was not available she decided to go the emergency that same evening. She was referred for an ultrasound the next day and then had a biopsy the day after that. The radiologist told her not to worry and that it would be fine. Nadia (B) was however soon after called by her family doctor to come in for an appointment during which he told her that she had breast cancer. Nadia (B) had a lumpectomy within 11 days after the diagnosis. The results from the lumpectomy were good; her margins were clear, the cancer had not spread and only one lymph node had been removed. Because of her specific breast cancer Nadia (B) was treated with chemotherapy, radiation and hormone therapy. Nadia (B) later learned, from her surgeon, that the lump was present in her mammography of 2012 but it hadn't grown. It had probably gone unnoticed because of her dense breasts and the small size of the tumor. Nadia's (B) first oncologist spent only 5 minutes with her after she had been seen by a resident. She didn't like this kind of approach and was uncomfortable when the oncologist had to correct the resident's recommendation for the proposed medication. Nadia's (B) niece, who was an excellent support throughout her treatment, found another oncologist. This oncologist took her time with patients, listened well and had a good bed side manner – things that are very important to Nadia (B). Overall, she found that the staff at this hospital was kind and more interested in the patient – there seemed to be a different sort of culture. She feels grateful for the health care system in this country and appreciates the fact that she's able to undergo treatment.
Nadia (B) had just started a new job at the time she was diagnosed. Her boss was very supportive, granted her sick leave, and then asked her to take her time and make sure she is better before she returned back to work. Nadia (B) did however feel ready to go back to work when her radiation treatments started, just to have some distraction from her illness. She is very proud that she has been able to work throughout this period.
Nadia (B) has received wonderful support from her family as well as her community and friends; her husband assumed new roles in the household in caring for her. Throughout her treatment and recovery, which was a scary time for her, she had a daily routine of prayer and meditation which gave her a lot of strength. She also made changes to her diet and continues to have booster juices every day.
More content