Elaine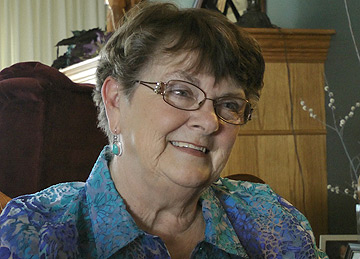 Cares for her husband
Age at interview: 71
Age at start of caregiving: 49
Elaine (71 years old) is married and has two grown children. She started her caregiving experience with helping her parents. After this, she became a care receiver herself when she was diagnosed and treated for lung cancer. Elaine's caregiving experience then continued when her husband (72 years old) was diagnosed with Parkinson's disease, 14 years ago.
Elaine's first experiences with caregiving started when her mother was diagnosed with cancer. She still remembers the large number of home care professionals who came to assist her mother and how she felt overwhelmed by the whole process. When her mother passed away, after six months of care at home, Elaine took over the care for her elderly father who lived with Elaine and her husband. They moved to a smaller home when her husband retired and Elaine's father moved to a senior's apartment. A few months later, Elaine was diagnosed with lung cancer and, while she was being treated with radiation and chemotherapy, she experienced for the first time what it was like to be a care receiver. Three years after her recovery, Elaine's husband was diagnosed with Parkinson's disease. This moment evoked strong emotions in Elaine, who initially did not feel ready to accept the news of another major illness in her family. At the same time, Elaine and her husband were relieved to learn that he had Parkinson's disease and not a brain tumour, for which they had feared.
Today, Elaine and her husband have succeeded in remaining positive and focus on what is possible to do in their circumstances. Elaine's husband enjoys working on certain tasks around the house, even when they may be physically challenging or somewhat dangerous for him. Elaine had to learn to accept her husband's tendency to put himself at risk and to not spoil their day by being frustrated or worried by it. Although she still has periods in which she feels regret for the loss of their former plans, she has become more accepting of their situation and ready to face up to their challenges. For example, when her daughter was diagnosed with cancer, Elaine was able to listen to her own daughter's advice to think in terms of pure reality: "this is what it is".
Elaine and her husband have made important adjustments while the disease is progressing. For example, Elaine has moved to another bedroom after receiving a black eye when her husband had a violent dream, another symptom of Parkinson's disease. This has not stopped Elaine and her husband from continuing to work on their closeness by spending special times together. Elaine now appreciates the strength of her long marriage and wishes to continue caring for her husband until the very end.
Elaine and her husband have become actively involved in their local Parkinson's organisation. Through their efforts, they help others diagnosed with the disease or those who are caregivers for someone with Parkinson's. Elaine feels that she is helping herself by helping others. Thanks to her caregiver's experience, she is aware of the regret people sometimes feel once the care receiver has passed away. This helps her to wake up every morning with the promise to be kind and happy that day, knowing that she has tried everything possible to go through her caregiving period in a harmonious way.
More content