Kai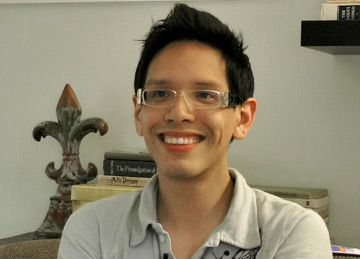 Cared for his father
Age at interview: 28
Age at start of caregiving: 16
Kai is 28 years old and a Native American. He lives with his sister and her husband where he helps to look after their young children. When Kai was 16 years old, he started helping to care for his father at home who had multiple chronic conditions, including heart failure and diabetes. His father's condition gradually grew worse and Kai became his primary caregiver until his father's death eight years later. Kai is a strong advocate for youth caregivers.
Kai started helping to provide care for his father who, at 55 years old, could no longer work as a schoolteacher because of his heart disease, diabetes and congestive heart failure. Kai was 16 at the time and initially his role was mostly helping around the house to support his family. A few years later, when Kai had finished high school and his siblings had moved away for university, he decided to find a job nearby to help his mother and father. His father was now seriously ill and required home dialysis, which in turn necessitated a strict regime of care, cleaning, preparing meals and vigilance by Kai and his mother, who were sharing the responsibilities of caregiving.
As Kai's father became more seriously ill, there were more frequent trips to the hospital, and challenging times at home in making ends meet. Kai's mother was between jobs and Kai couldn't really work while he was so involved in this father's care. His father developed gangrene on one leg, and then eventually the family were given the decision to either amputate or go off dialysis – both options meant that his father would likely die within a month, but strangely Kai mentioned that this had been his happiest month. His father seemed much more at peace. Kai was happy that his father was able to spend most of his time at home versus a long-term care facility – he moved to a hospice only at the very end of his life, given that Kai and his mother were less comfortable administering pain medication. He wishes that the elite healthcare professionals with whom he interacted could take youth caregivers more seriously and involve them more in discussions about the care of the person. However, one physician stood out as he was very straight-talking about the decisions they faced and also asked directly about how Kai and family were coping.
Kai felt that stepping up to look after his father is partly an expectation within the Native American culture, but also stated that looking after his father was, overall, a conscious positive decision for him. Kai described the isolation of being a young caregiver, having to miss out on social activities and the development of normal friendships; youth caregivers receive no direct support from government. Things changed dramatically for Kai when the opportunity arose to help create a documentary about youth caregivers by the youth themselves; they established their support group following the completion of the film. This group has been an important touchstone for Kai. He credits his experience as a family caregiver with helping him to become more mature and independent, and for bringing his family closer together. He feels that youth caregivers are important role models for others in society.
More content