Acknowledgements
We would like to extend sincere thanks to all of the patients, caregivers, and researchers who participated in this study by sharing their stories of partnership, as well as to the members of our advisory panel (see members below). Special thanks to Patricia Pottie, a member of our advisory panel, who provided her expertise in plain language communication to help with the text for our web results. Thank you to Celine Bailey who provided professional translation support, to Chelsea D'Silva for support with our ethics application, and to Sylvia Wrobel, volunteer summer student from Western University, who helped support this work and updated existing material on our web site, as well as to the excellent administrative support provided by Irene Derlago and the research operations team. Finally, thanks to Cianna Wilkinson on our KTE team who helped with the management of our video and web material.

The research team:
Susan Law, PhD (Principal Investigator)
Susan leads the Canadian Health Experiences Research Program and is Director of Research & Scientist at Trillium Health Partners – Institute for Better Health. She is an Associate Professor at the Institute for Health Policy, Management & Evaluation (University of Toronto). She completed her doctorate at the London School of Hygiene & Tropical Medicine in public health. Susan oversaw all aspects of this research, including study design, data collection, analysis and dissemination.

Ian Graham, PhD (Co-Principal Investigator)
Ian trained as a medical sociologist at McGill University and completed postdoctoral studies in clinical epidemiology at the Ottawa Hospital Research Institute. A core component of his research program focuses on understanding how engaging patients and other stakeholders in research (known as integrated knowledge translation) works, and the impact it produces.

David Wright, PhD (Co-Principal Investigator)
David is assistant professor and co-director of the Nursing Palliative Care Research and Education Unit, University of Ottawa. He has methodological expertise in qualitative health research, palliative / end-of-life care and nursing ethics.

Michelle Marcinow, PhD (IBH, Project Coordinator and Qualitative Researcher)
Michelle was the project coordinator and lead qualitative researcher for this project, keeping us to task and organized. She conducted and analyzed the majority of the interviews, with support from Ilja Ormel and Susan Law.

Ilja Ormel, MPH, PhD(c) (Qualitative Researcher)
Ilja has worked on the healthexperiences.ca team for the past eight years. She is working on her PhD at the Department of Family Medicine at McGill University, focusing on the use of co-design and integrated knowledge translation in humanitarian settings. Ilja conducted interviews for this project in the Montreal area.

Donna Plett, MSc Student (IHPME, University of Toronto)
For her Master's thesis work, Donna designed and led the mixed methods evaluation of the demonstration version of the online web module, with support from her thesis committee (Susan with Drs. Kerry Kuluski and Judith Versloot at IBH).

Arachna Lakhanpaul, IBH Knowledge Translation & Engagement
Arachna is a communications specialist who provided invaluable help to organize and post our results to the healthexperiences.ca web site. She also helps to monitor our web analytics and completes updates as needed.

Ryan Caulfeild, BCOM Student (McMaster University)
Ryan was a summer student at IBH who helped enormously with the extraction, editing and management of our video material to support the presentation of our results on the web site.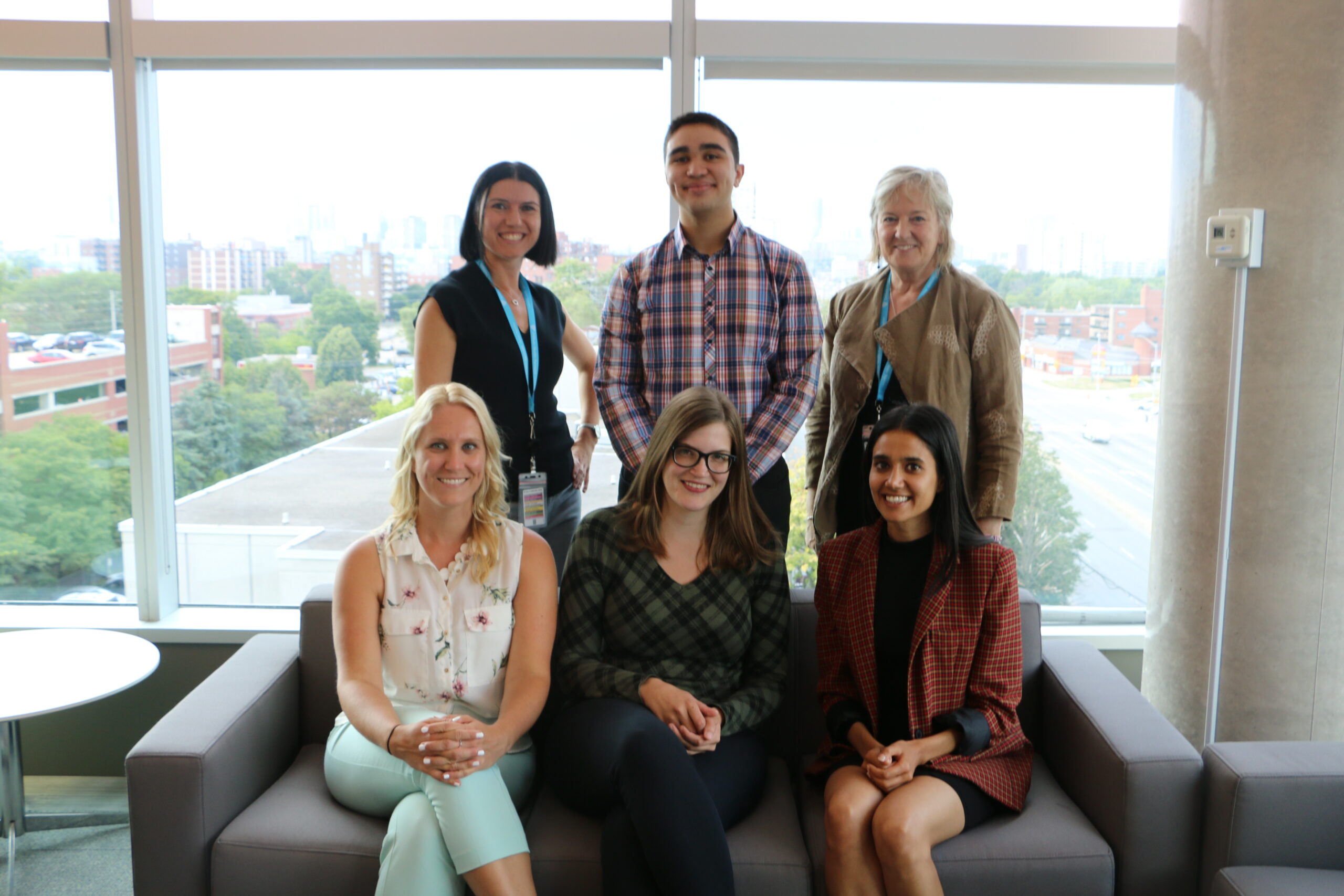 Top Row: Kerry Kuluski, Ryan Caulfeild, Susan Law
Bottom Row: Michelle Marcinow, Donna Plett, Arachna Lakhanpaul
Expert Advisory Panel
Patricia Pottie, BSc, Patient Advisor
Linda Murphy, Caregiver Advisor
Melissa Courvoisier, Research Coordinator, St. Michael's Hospital; Partners in Research Program
Kerry Kuluski, PhD, Dr. Mathias Gysler Research Chair in Patient and Family-Centred Care at the Institute for Better Health, THP; Associate Professor at IHPME, University of Toronto
Ian Graham, PhD, Co-PI
David Wright, PhD, Co-PI
Danielle Rolfe, PhD, Knowledge Translation Specialist, Faculty of Health Sciences, University of Ottawa

Grant Holders:
Susan Law
Ian Graham
David Wright
Sharon Straus
Supported By:
The Ontario SPOR Support Unit
CIHR Foundation Grant on integrated knowledge translation, held by Dr. Ian Graham [FDN #143237]
St. Mary's Hospital Foundation