Ginny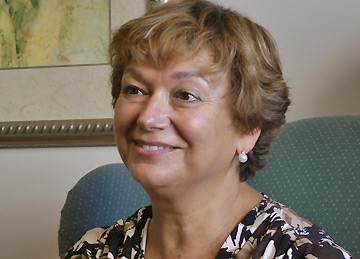 Cares for her mother
Age at interview: 56
Age at start of caregiving: 52
Ginny is married and has two grown children. She enjoyed her work as a principal at an elementary school but took early retirement when she felt that she needed more time to care for her mother who suffers from arthritis. Ginny's mother eventually moved in with Ginny and her husband when she required more frequent care. After her first hospitalisation, Ginny's mother moved to an intermediate care facility where she waited two years for placement in a long-term care home.
Ginny's father passed away 16 years ago and Ginny's mother was able to continue to live on her own thanks to Ginny's support. However, as her mother's condition deteriorated, it became clear to Ginny that she was no longer able to live alone. Ginny and her husband first invited her mother to stay in their place for a two week period while keeping in mind that her stay could be prolonged. Ginny's mother initially did not want to move, but understood after two weeks that living with Ginny and her husband was the best option.
During that period, Ginny was still working full-time so her mother qualified for 45 minutes of public home care service. As soon as Ginny realised that this support was insufficient, she started looking for alternative options. She arranged extra privately paid help for her mother as well as a place in a daytime program. Nevertheless, the frequent change of caregivers for her mother in addition to the difficulties of arranging timely care and transportation to the daycentre were stressful for Ginny. She took some time off work to look into other possibilities, and while spending more time at home she realized that her mother had reached the point of requiring 24/7 help. Ginny was unable to provide this while working full-time. She first explored the possibility of working part-time, and then, when this was not possible, she took early retirement.
Ginny's mother's health continued to deteriorate, and after several small strokes (TIA's), she became dependant on a wheelchair. After her first hospitalisation, because of strokes, Ginny's mother went to an interim care facility until a place was available in a long-term care facility. Although Ginny is satisfied with the care that her mother has received, she would have appreciated a proactive approach concerning the progression of her mother's illness instead of a reactive one. She feels that the care provided for her mother was often a step behind her actual needs.
Ginny explains that she has a supportive family and good friends who try to help whenever they can. However, since she is the only family member living near her mother, she is frequently responsible for her day-to-day care. Because of this continuous responsibility, Ginny feels exhausted and stressed, and she would find it wonderful to have the opportunity to take a break from it. Her physical health has also been affected by her caregiving situation and in response she has started to take long walks on a regular basis with her sister-in-law. Ginny continues to provide care for her mum with the hope of managing her needs and keeping her happy in spite of her difficult situation. Helping her mother has made her realize the importance of trying to do something positive for others every day.
More content